The only highly effective Graviola Extract in EU Market
Stay healthy and buy Graviola now
Graviola Fruit Plus Extract
Graviola Fruit prepared by up-to date scientific extraction methods.
Graviola Fruit Plus is a concentrated syrup from Graviola from Peru, the mother land of Graviola.
Many scientific researches and papers proved since the 70s that Graviola whole tree products are helpful for healthy as well as patients, they are suffereing from different health problems.
It potentiate the action of many treatments.
Graviola Fruit Plus
Graviola Traditions
Juice & Leaves tee
Graviola family
small volume
50 ml

With the use of our Graviola Plus, you will discover the difference in a very short time.
In Peru and south American countries, it is a tradition that every house grows its own Graviola tree. People are eating the fruit and drinking the leaves as tee.
Yes, it is Graviola from the Amazon region
But
Graviola Plus is not only an extract.
It is a unique extract in the market as it is produced to the state of the art combination between biotechnology research and natural food product
Graviola plus has a specific formula from both fruits and leaves to be very highly effective and powerful enough to help and to fight against many of the health problems
Graviola Plus Fruits & Leaves since 2017
Exclusive production from sun dried Graviola Fruits and Leaves
Fruits and leaves are imported specially to Kawit from Peru
Processed through highly sophisticated technology
Has a special concentration holding the wanted active substances which are identified and optimized in our Kawit laboratories in Vienna
Has the optimum concentration of the active substances to our bodies which are also tested in kawit laboratories in Vienna against many cell types
Are working as a very powerful and rapid substances in our bodies, and in Kawit laboratories, we discovered how it works
Considered a unique Graviola product all over the world, as it is very highly researched, produced and certified in EU (Vienna, Austria).
very helpful health support in health as well as in diseases.
Graviola history is long enough to talk about these products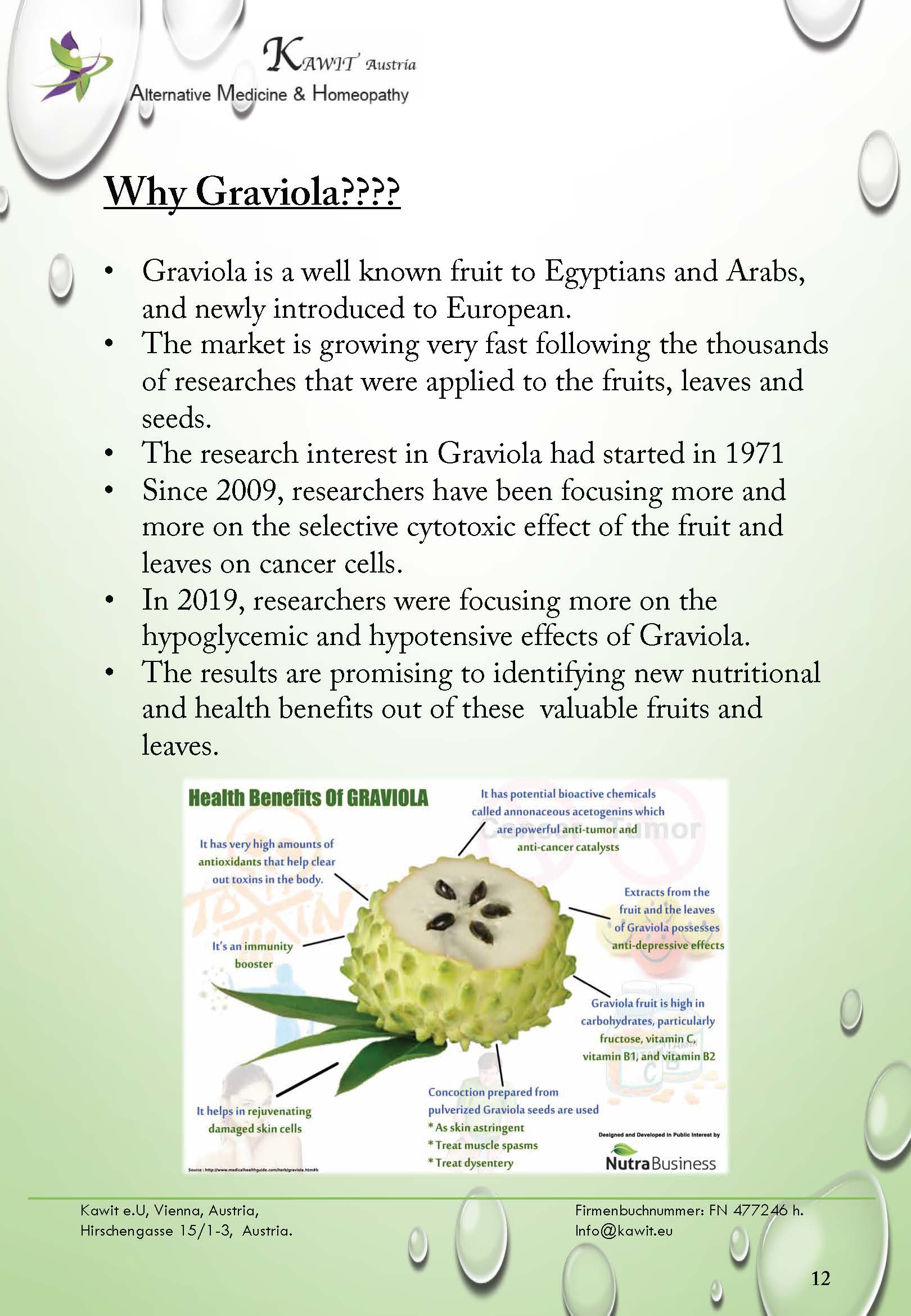 Graviola is a well known fruit in South America, Asia, and African countries, and newly introduced to European countries.
The market is growing very fast following the thousands of researches that were applied to the fruits, leaves and seeds.
The research interest in Graviola had started in 1971
Since 2009, researchers have been focusing more and more on the selective cytotoxic effect of the fruit and leaves on cancer cells.
In 2019, researchers were focusing more on the hypoglycemic and hypotensive effects of Graviola.
The results are promising to identifying new nutritional and health benefits out of these valuable fruits and leaves.
Fruit fresh juice is one commodity that is consumed in all region of the world.
As a matter of fact, economic downturn hardly affects the consumption of fruit juice because it is considered a healthy substitute for soft drinks and other processed drinks.
In recent years, the perceived high sugar content of some smoothies and juices has forced the industry to adapt its offering.
For this reason, cold pressed juice, which is made by hydraulically chopping and crushing produce such as spinach, kale and ginger without using heat, thereby yielding highly nutritious juice, has risen to prominence.
Why our Graviola is different?
As we are professional in the sector of biotechnology and phyto -industry (Nutraceuticals) since 2013 in Vienna, Austria, this gives us the chance to combine our latest research in biotechnology and translate it to bioavailable products from a highly demanded Graviola fruits and leaves in the European as well as in other countries.
Es ist aus Peru, dem Land der Graviola
Es ist von Kawit, dem Unternehmen für Biotechnologie in Wien, Österreich
Kawit ist ein Biotechnologie-Unternehmen, das sich hauptsächlich darauf konzentriert, die neuesten Forschungstechnologien auf die sehr sicheren alten natürlichen Heilmittel anzuwenden, um neue Vorteile aus sicheren Lebensmitteln (Nutarceutical) zu entdecken.

Kawit Naturprodukte sind in der EU und den amerikanischen Märkten für ihre starken und wirksamen Wirkungen auf die menschliche Gesundheit bekannt.

Graviola aus Peru wird von vielen Forschern als die stärkste und effektivste Art der Welt angesehen, mehr als die Graviola aus dem Fernen Osten und Afrika

Wir haben in unserem Labor in Kawit, Wien festgestellt, dass die Graviola aus Peru viel effektiver und stärker ist als jede andere Graviola aus Asien oder Afrika.
How Does Graviola work in our body?
Graviola Plus helps in:

Fruit

Leaves

Works on Amylase 1 and Glucosidase 1 Enzymes ++++++

High Blood Pressure (Hypertension)

Angiotensen Converting Enzyme 1 (ACE1) ++++++

Very high alkaline pH ++++++

Glutathione perioxidase + Anti oxidant activity ++++++

Bladder Infection & Prostate

Cancer Breast, Lung, Colon, Prostate